Hike and Cooking Whole Chicken Roast at Bushcraft Campfire
by
Currently Corona semi-lockdown is active in our city where we cannot travel outside the state. I can hear far away tall-snow mountains whispering in my ear and I am unable to reach them. Hope is alive and soon I will see them again. Until then I was on lookout to search for quiet haven of nature near me that isn't known to many people. To seek quiet heaven away from city - to forget about work and responsibility for a while, and get myself immersed in sounds of nature. As if mother nature heard my wish I found an information about a secret creek in dense jungle located in hills some 1 hour away from the city. I have been preparing and waiting for little bushcraft adventure and this opened an opportunity. It would be great hiking adventure with my first attempt in starting bushcraft.I made a plan for hiking to that place and cook a whole roast chicken in little bushcraft style on campfire near that creek. Winter has marked their arrival but it's not fully cold yet - still have one more month to feel the chilly needles into skin. I woke up early morning and prepare fresh countryside chicken from local farm near-me. I made all the preparation of spice-mix, additional seasonings, grill plates, matchsticks, drinking water and my camera equipment. We were set to go.
Hike was an uphill trail with landslide prone path at the beginning. After 15 minutes forest started to grow and soon we had a thick foliage and beautiful canopy above our head. More deeper we went, and old aged trees start to make appearance with their majestic girth and thickness standing tall reaching sky. Beautiful blue wild flowers were jostling playfully with wind. All stress and worrisome was forgotten. We reached the mountain creek.
Creek was beautiful - water flowing through the rocks singing their own ritual song unaware of distant time. I couldn't see the source of water and it appeared if source was coming from under the ground. Frogs, fish and crabs were aware of our presence and made some movements in their haven of water. Grey cloud was hovering above us to the confusion in our face for there was clear sky and sun when we started our hike this morning. Cloud did seem if it could burst out any moment. Seeking that as warning we immediately began searching for our suitable spot to make a campfire.
After getting settled on the spot we started looking for firewood in the woods. There was good amount of fallen dry trees and harvested them with the help of traditional machete called "khukri / kukri". I really felt the need of an axe or saw but we did our best with available tool. Please don't cut green trees. Deforestation is really a social and nature issue in Nepal. We harvested enough firewood to have really good large ember and coals for our whole roasted chicken.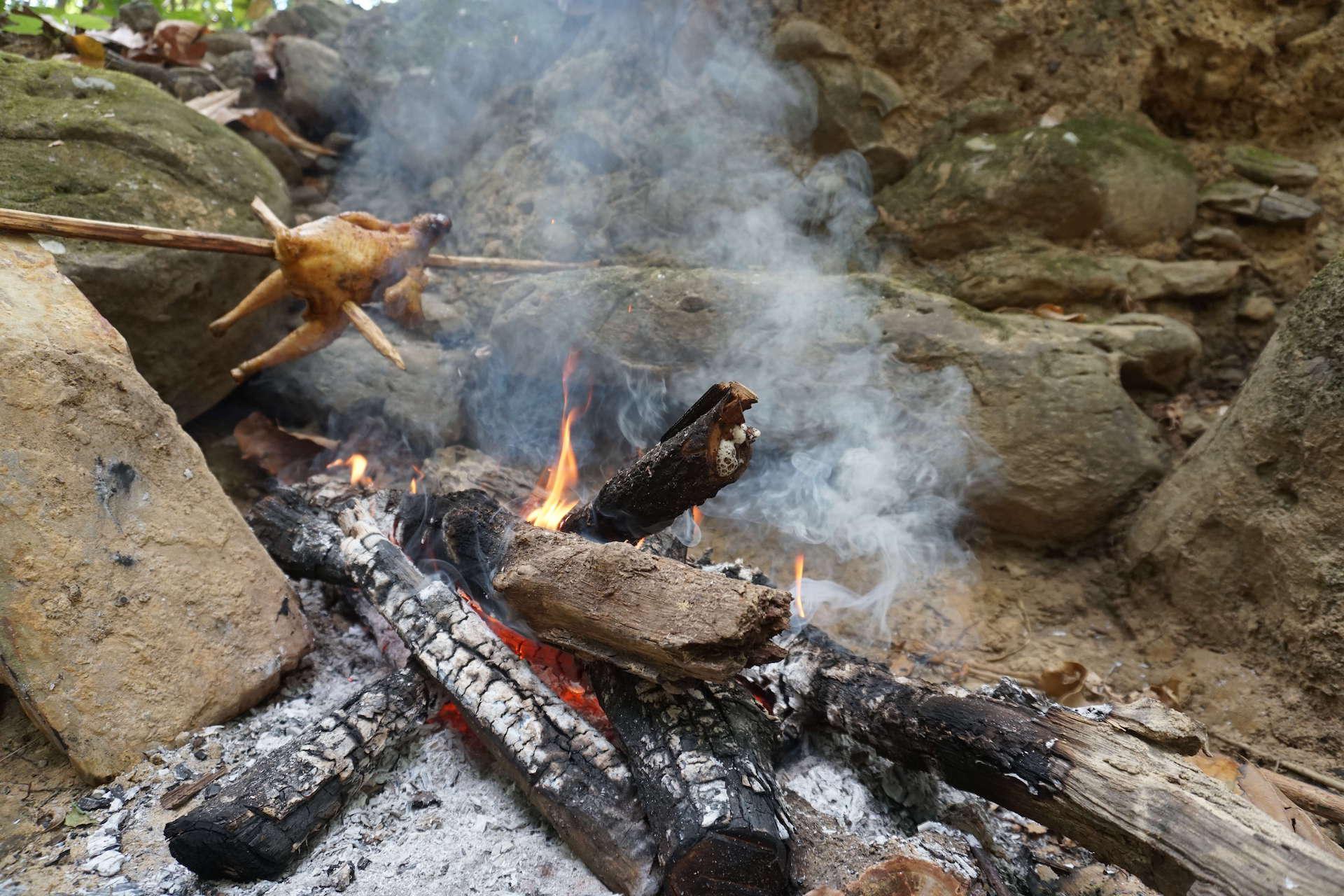 Bushcraft whole roasted chicken recipe ingredients:
Salt based on your taste. I used 1 tablespoon.
Seasoning mix of Sichuan pepper powder, coriander seed powder, rock salt and red-chilli powder.
Oil. I used mustard cooking oil
Cumin seed powder.
Lemon.
Mix salt and seasoning mix only in oil. Mix thoroughly and apply the coating over the chicken and inside the chicken.
After coating is done then setup the chicken to partial bark stripped off green wood. Don't put chicken directly over fire because it will burn the chicken from outside and it will remain red raw inside. Keep a distance between chicken and flame and put over the embers or coals. Put your hand below the chicken and if you hand can tolerate the heat for not more than 8 seconds then the temperature is perfect for slow roasting. It will cook thoroughly inside making sure its crispy skin outside and juicy inside.
I slow roasted the chicken for 1 hour. Based on the size of chicken it may differ. Our chicken was 1 kg / 2.2 pounds.
Keep turning the chicken every 5 minutes for 1 hour. We made sure 4 sides of chicken were given attention: top, down, left and right.
After half an hour we applied another coating of oil to prevent chicken from drying out.
5 minutes before the finish sprinkle the cumin powder over the chicken for enhanced flavour explosion.
Lastly put the chicken on rest for at least 3 minutes before eating it and rub some good juicy lemon over the chicken for extra flavour.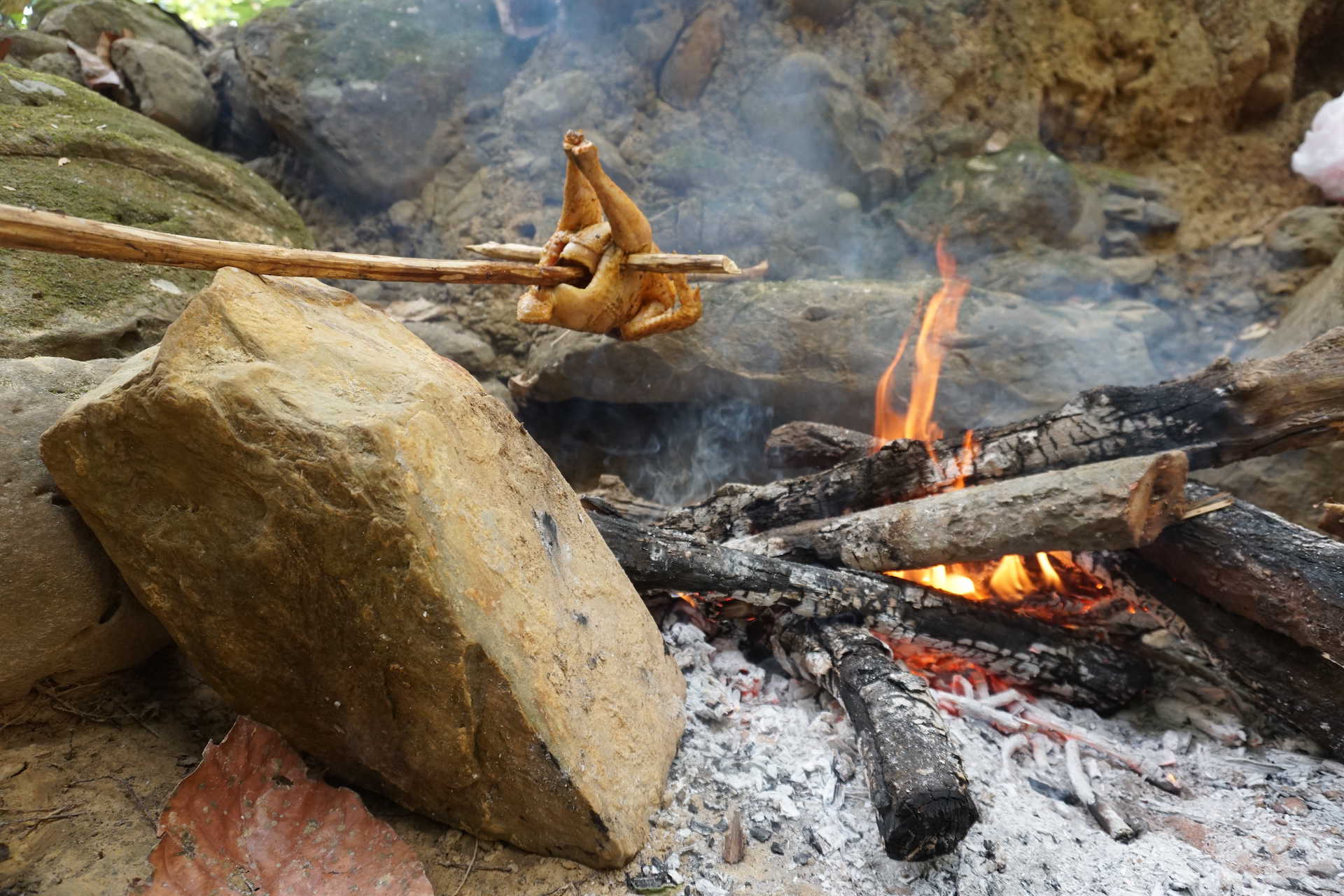 That is it. I hope above recipe works for you also. There are plenty of space to experiment with different spices and amount. Just have fun.
You might also like: Amanita Caesarea: Hunting Edible Caesar's Mushroom